Local WX Updates w/ Meteorologist Shane Holinde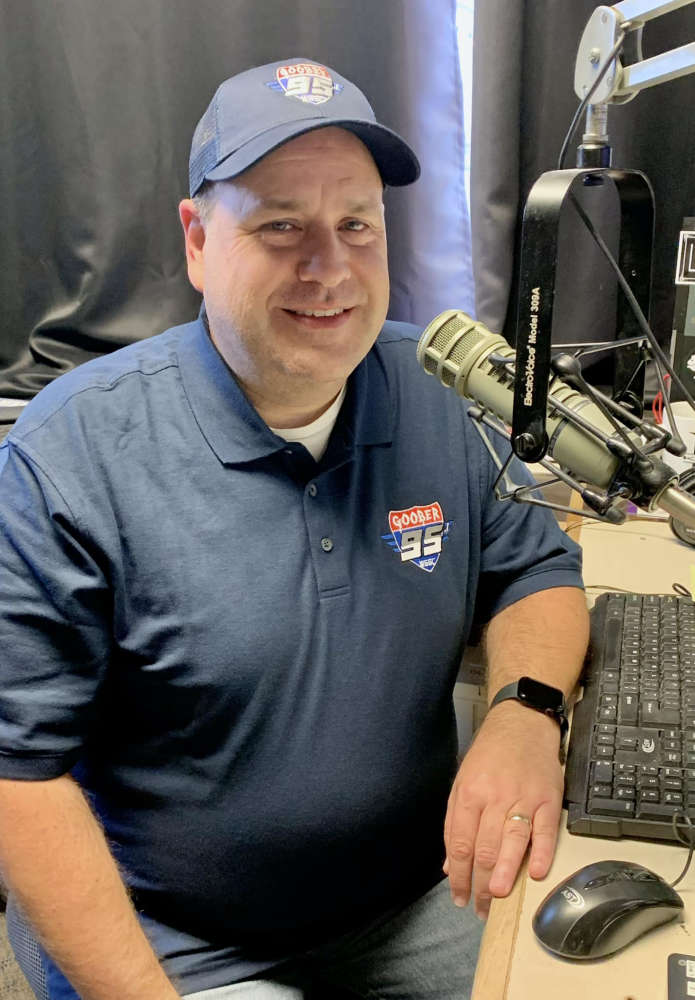 Shane Holinde is a Kentucky native and veteran meteorologist with more than two decades of experience in weather forecasting. He comes to Goober 95.1 after spending more than 22 years in television, all of those years coming at WBKO-TV in Bowling Green, KY.
Shane grew up in the small town of Sorgho, located between Owensboro and Henderson, KY. A self-described "weather geek", Shane's fascination with meteorology began when he was just a toddler at age two. That's when the Commonwealth was hammered by the "Great Ohio Valley Blizzard of 1978". While Shane doesn't remember it, his parents tell him he ran around from window to window in his home, enthralled by the powerful winds and drifting snow. All the while, Shane's mom and dad were trying to get him back in bed in order to stay warm since the power had gone out! Years later, Shane began sharing his love for the weather with fellow elementary school classmates by drawing forecasts on poster board and delivering weather presentations every Friday afternoon. He even held a "guess the date of the first one-inch snow of the season" contest each year!
Fast-forward to college, where Shane attended Western Kentucky University. While there, he became involved in the student produced "NewsChannel 12" campus broadcasts as both weather and news anchor. He was also a on-air personality for WKU's FM radio station, known then as "New Rock 92" (now "Revolution 91.7"). Shane also served as a meteorology lab assistant for two semesters. He double majored in Broadcasting and Geosciences, receiving his degree in 2002.
While attending WKU, Shane was hired at WBKO-TV, first as a production assistant before working his way into an on-air role as fill-in weekend weather anchor in Spring 2001. He remained in that role into 2002, interning that Summer at WLKY in Louisville. Upon graduation and completion of his internship, he assumed a full-time position with WBKO, becoming the station's weeknight meteorologist officially in July 2003. From January 2020 until March 2023, Shane served as WBKO's Chief Meteorologist. Shane was recognized for his on-air work numerous times by the Associated Press, winning Best Weather Anchor in TV Division II in 2006, 2007, 2009, and in 2014, with a second-place award in the same category on two other occasions. Shane earned the National Weather Association Seal of Approval in 2006.
During his time in TV, Shane covered many a severe storm and winter storm for South-Central KY. Among them were the July 2004 Derecho event, the major Christmas Week Winter Storm of 2004, the Super Tuesday Tornado Outbreak of February 2008, the Ice Storm of 2009, exceptional drought and record heat in Summer 2012, the "snowpocalypse seasons" of 2015 and 2016, and the deadly, catastrophic Tornado Outbreak of December 2021. Just after 1am on Saturday, Dec. 11, 2021, Shane was broadcasting live when a large tornado rated EF-3 with winds to 165 mph roared into the city of Bowling Green, missing the WBKO studios by only 900 yards, knocking out power to the station and killing 17 people on its march northeastward through the city. It was one of two tornadoes to strike Bowling Green directly, the other being an EF-2 that paralleled I-65 on the city's east side. Shane provided more than ten consecutive hours of severe weather coverage during that historic event. For his efforts, Shane was awarded a "key to the city" by Bowling Green Mayor Todd Alcott in January 2022 and was named a "Kentucky Colonel" in November 2022. He was also recognized by U.S. Senator Rand Paul for outstanding community service.
From 2009-2021, Shane served as an adjunct professor at Western Kentucky University, teaching broadcast meteorology courses part-time. A number of his students went on to become broadcast meteorologists, working in markets such as Minneapolis, Sarasota, Nashville, Louisville, Lexington, and others. Shane has also served as a member of the Board of Directors for the South-Central KY Chapter of the American Red Cross. He has spearheaded a number of fundraisers for the Red Cross in the wake of natural disasters, locally, regionally, and nationally.
Shane is a member of the Bowling Green Rotary Club as well as a Member at Large for the Warren County Extension Council. As of Summer 2023, Shane is also a member of the American Association of State Climatologists.
An avid sports fan, Shane enjoys attending WKU and UK football and basketball games whenever possible. He is also a big fan of the Bowling Green Hot Rods and the Cincinnati Reds in baseball and the Pittsburgh Steelers in pro football.
Shane lives in Warren County with his wife Brenda, his daughter Nora, two rescued dogs, Ollie and Rosie, and a cat, Jason.